How it Works
Your Campaign
Here's what the campaign page looks like for first-time donors. In this example I just set up a single membership plan (Team Annunciation), but it is possible to set up more than one plan.
Link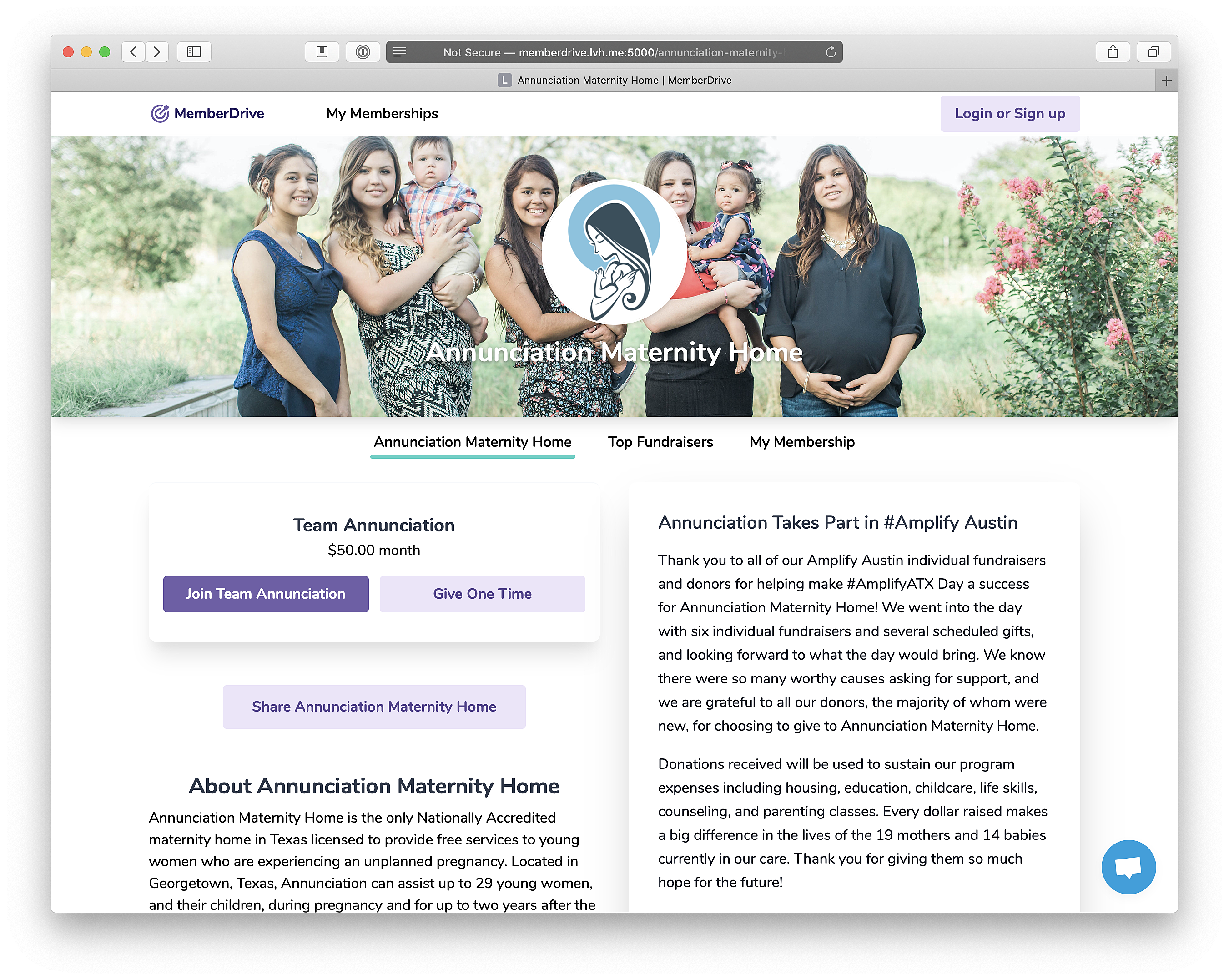 Join Now
When someone clicks "Join Team Annunciation", it takes them right to the Join Now page. There's no signup or login form. They can just enter their personal information and their credit card and click Join Now. They can also click One-time to give a non-recurring donation if they prefer.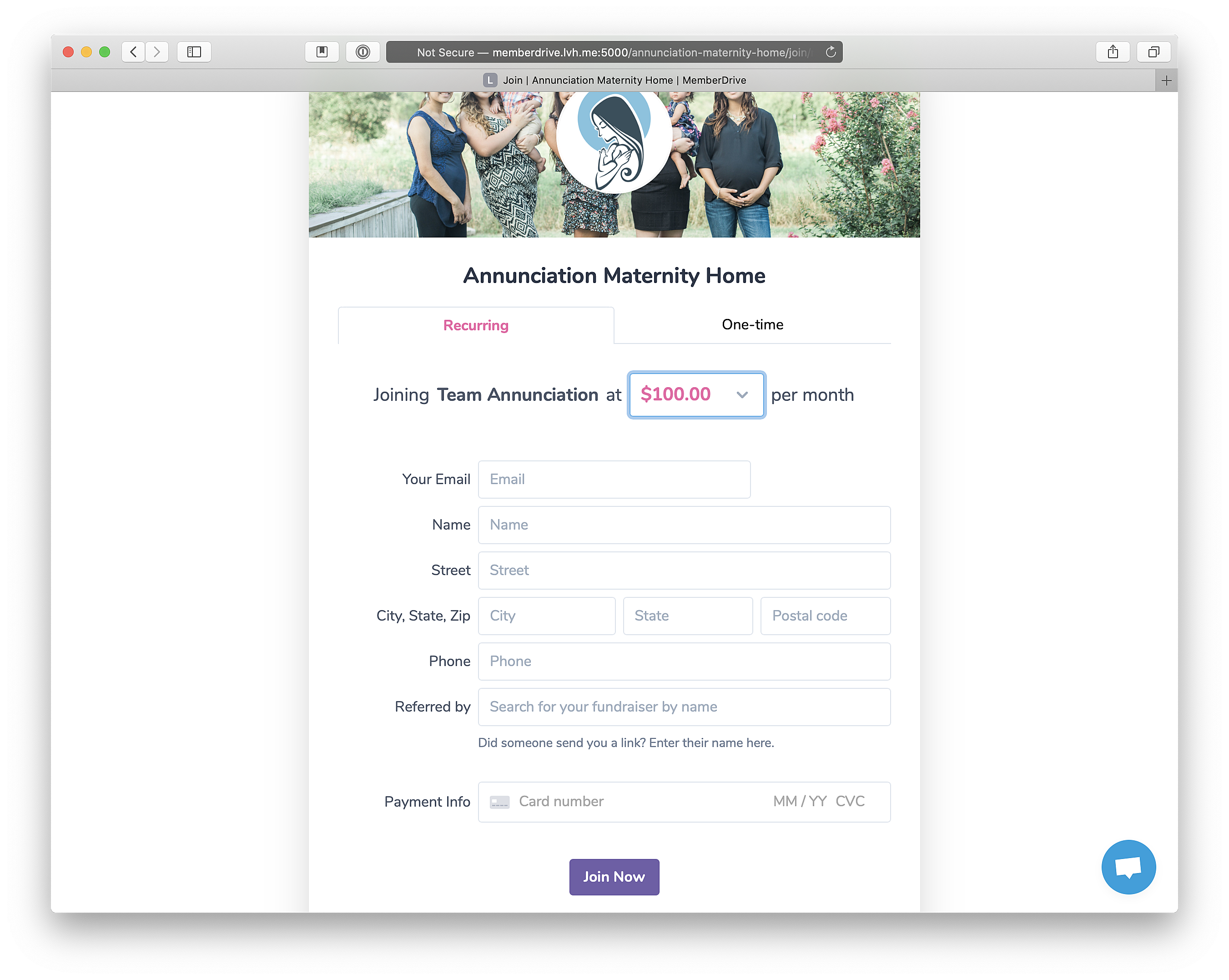 My Membership
After they join, they'll be able to see their My Membership page. This page shows them their membership status, any payments they've made, any members they've recruited, and their Magic Link (more on that in a minute).
They can also update their address, upgrade or downgrade their donation amount, change their payment information, or give an additional one-time donation, all from this screen.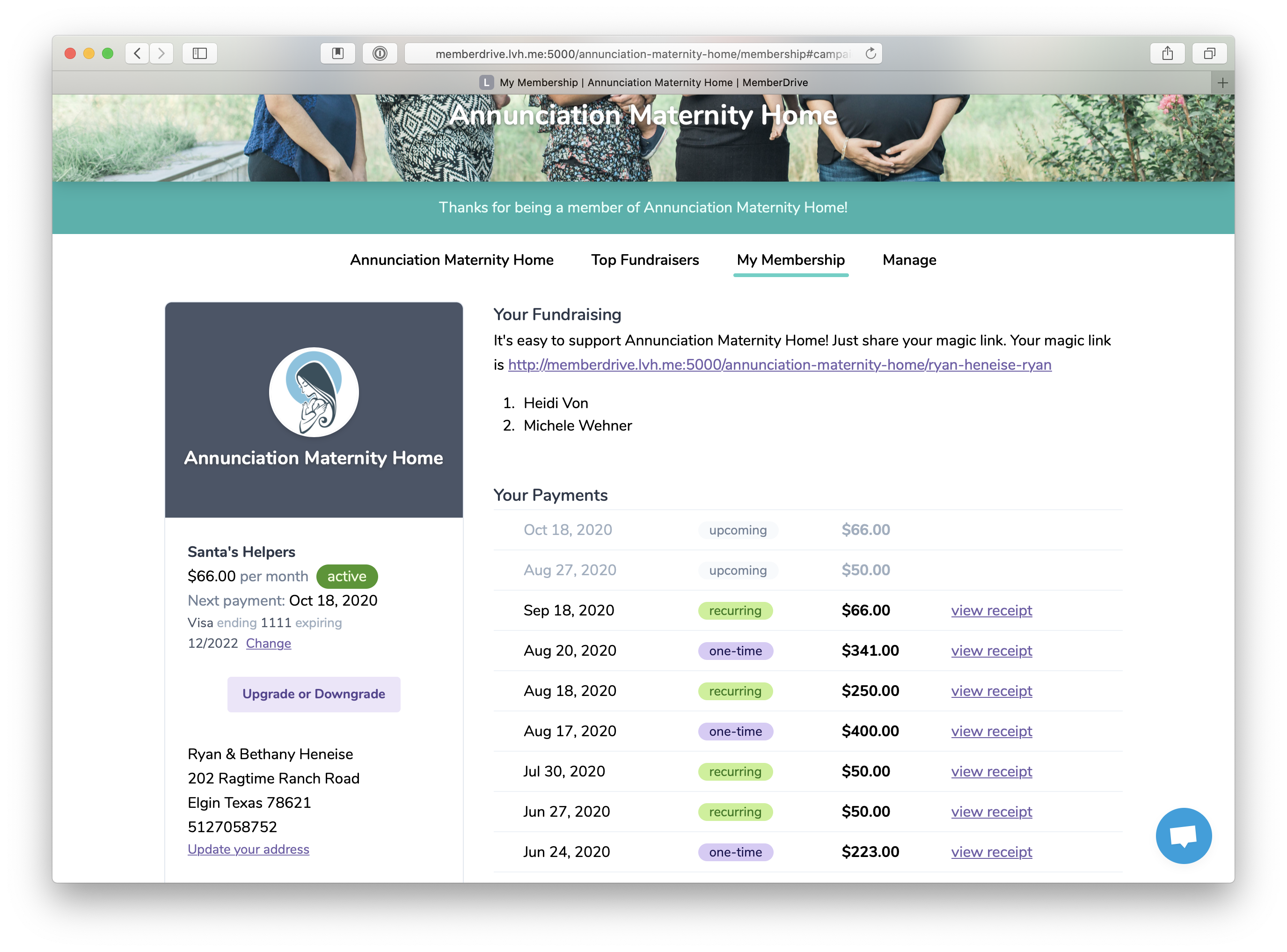 Passwordless Login
If the donor ever wants to come back to this screen, they can login using just their email address. They'll get an email containing a special one-time login code. They can either paste the code or click the link in the email to login automatically. Here's what that email looks like: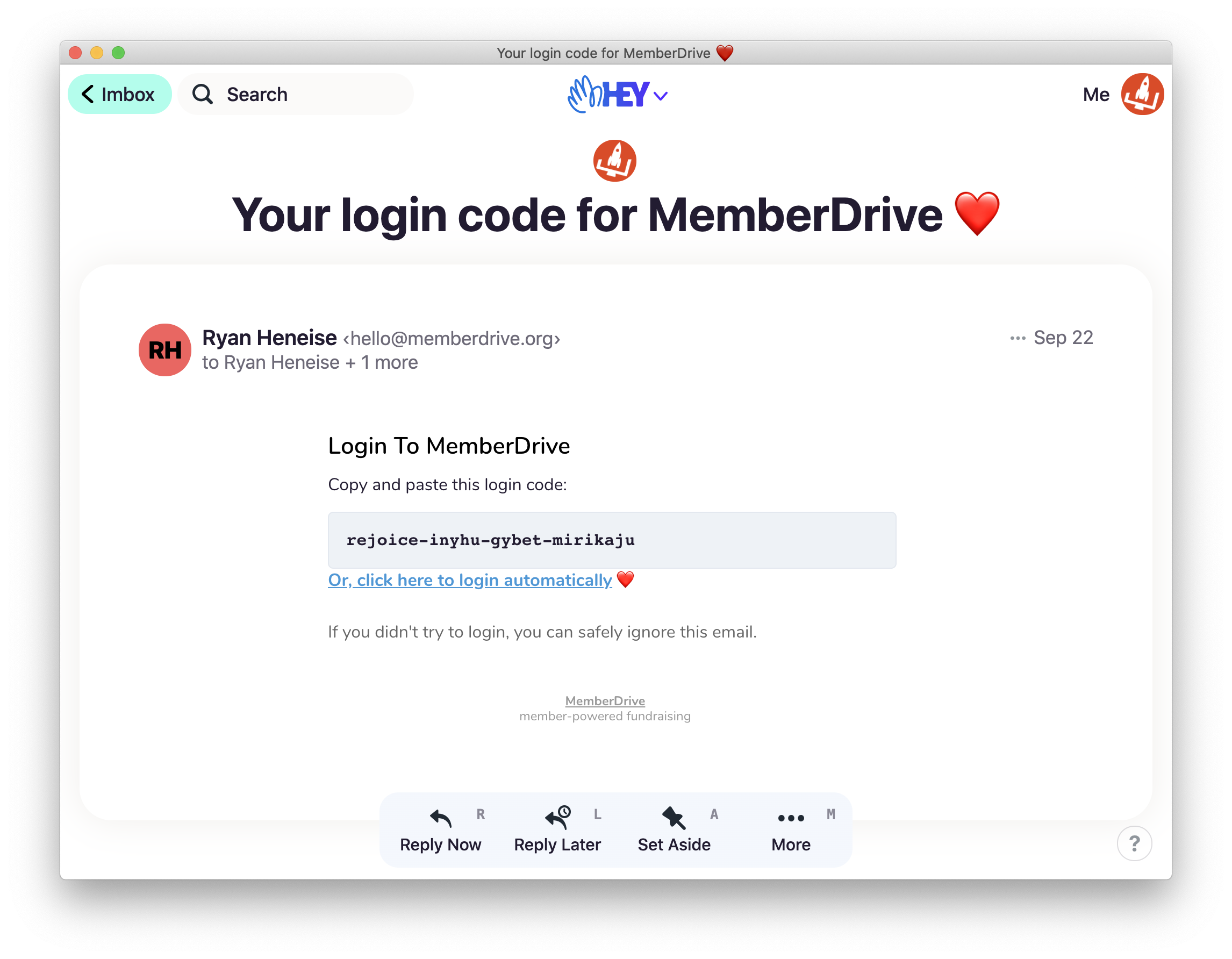 Peer to Peer Fundraising
If you can get your members to promote your organization, you can multiply the power of your fundraising. That's Peer to Peer fundraising. We make sharing your campaign incredibly easy. Just point, click, and share via email and every popular social network. Members can get credit for fundraising, compete against one another for the top spot, and you get to keep track of all the details, automatically.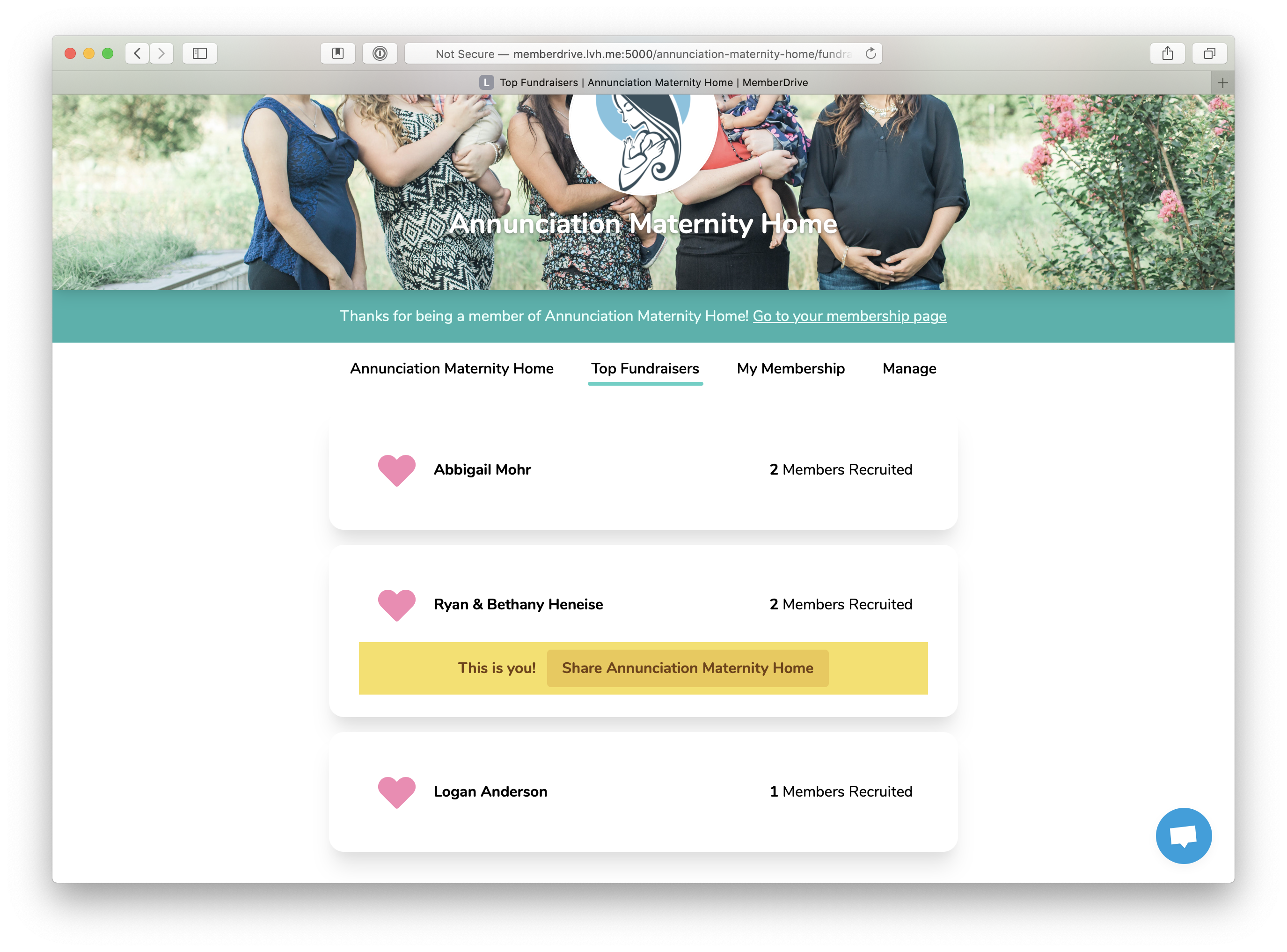 Peer to Peer Fundraising
The Magic Link is where the peer-to-peer magic happens. Every member gets their own magic link. For example, my magic link for Haiti180 is memberdrive.org/haiti180/heneise-family. If someone clicks on that link and then joins, I'll get credit for their fundraising. We can track fundraising through multiple levels, so we can see that I recruited Joe, who recruited Sue, who recruited Sam, all the way down.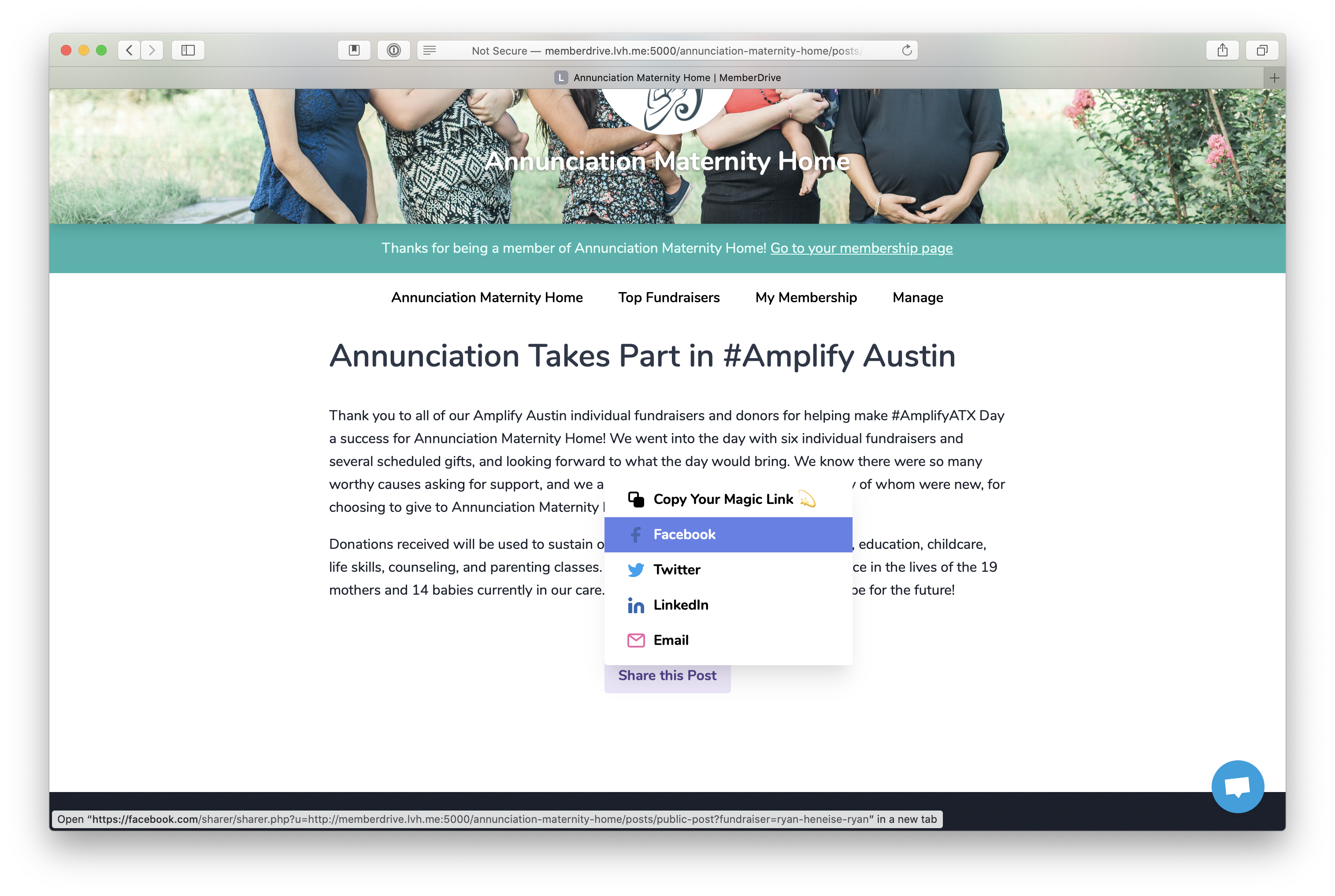 Administration
On the administrative backend, you are able to see all the detail about your members and their fundraising.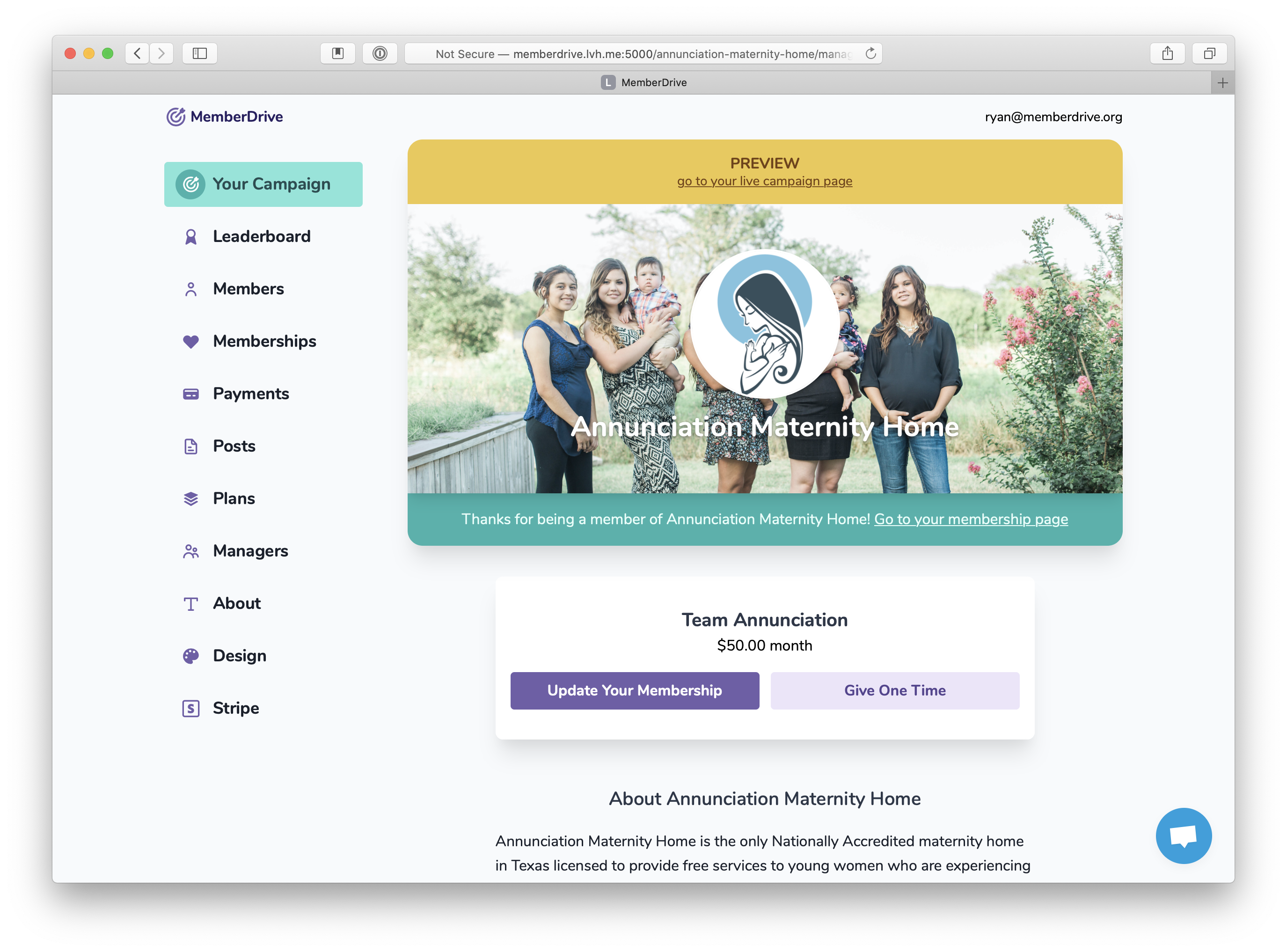 Members
You're able to see a lot of detail about each member, including their direct contributions, their fundraising recruits, and their projected fundraising estimates. Here's what a member's detail page looks like to you: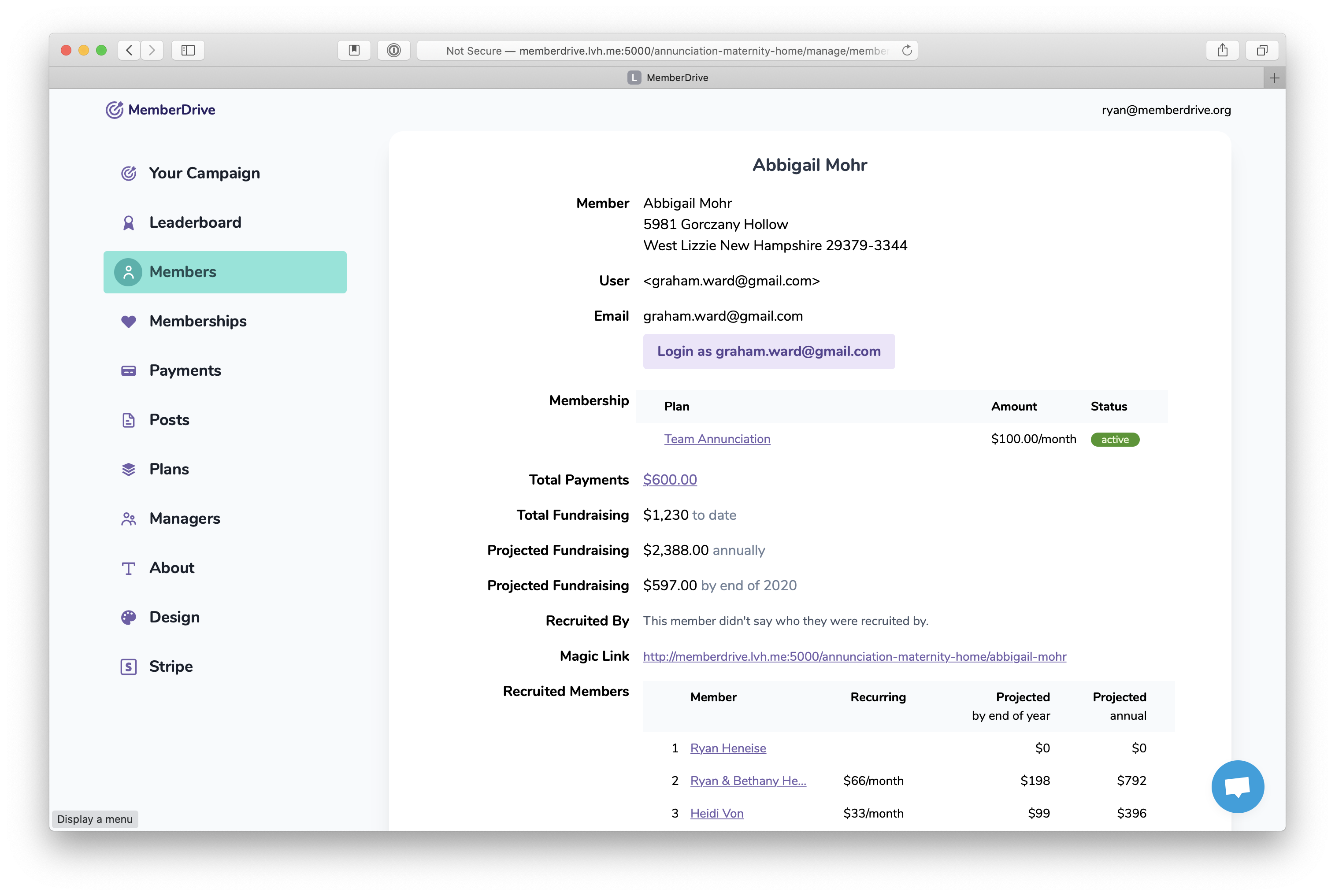 You can also run reports on memberships by plan, status, renewal date, and more. The Memberships list shows you who's up for renewal, when their next payment would be, and what plan they are on. (You can also see one-time donors by clicking on the Members screen.)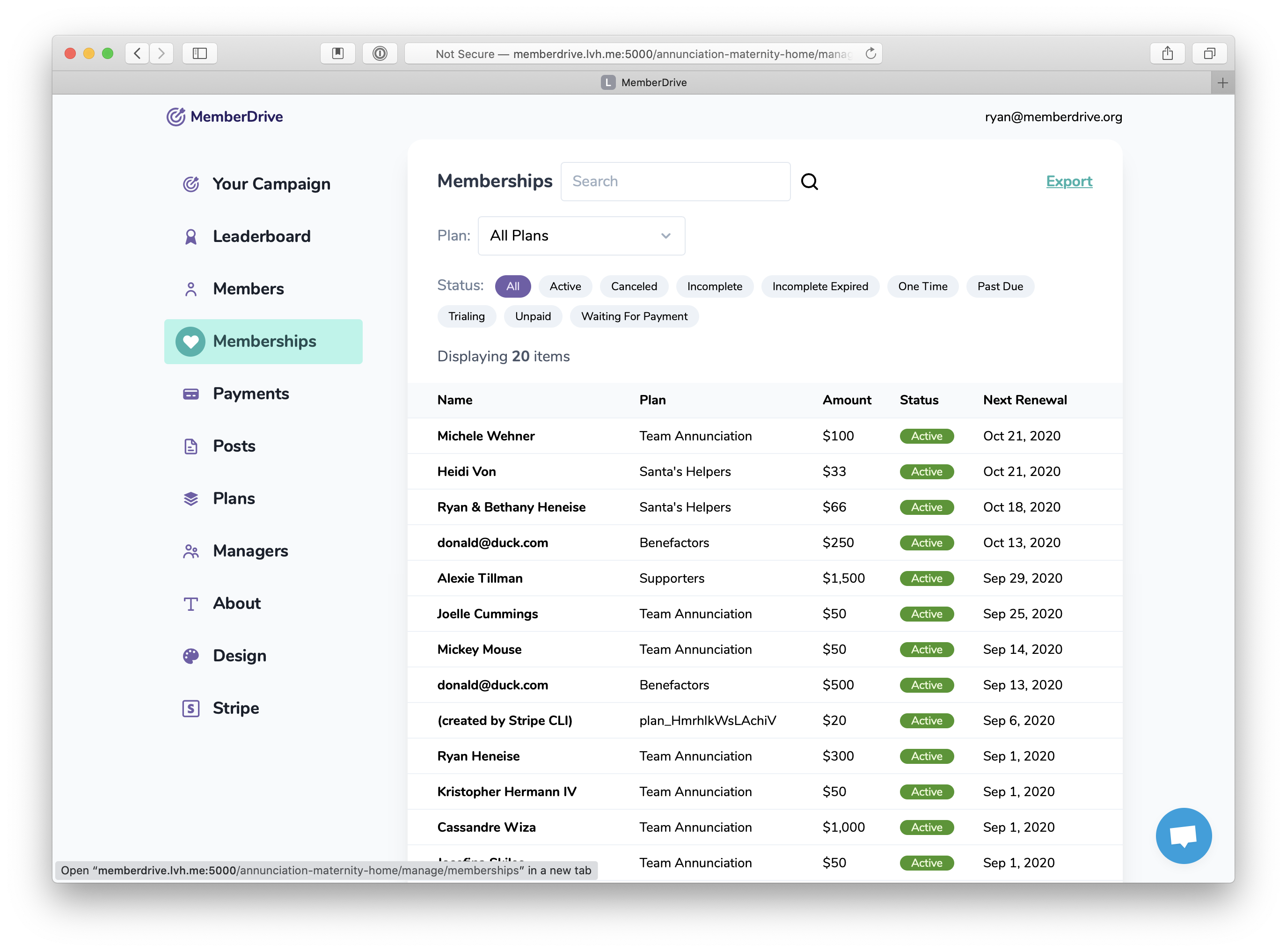 Membership Plans
You can have multiple membership plans, even if they're not all publicly visible. This is sometimes handy if someone wants to subscribe at a level that isn't published (there's always that donor who wants to give $83.33/month).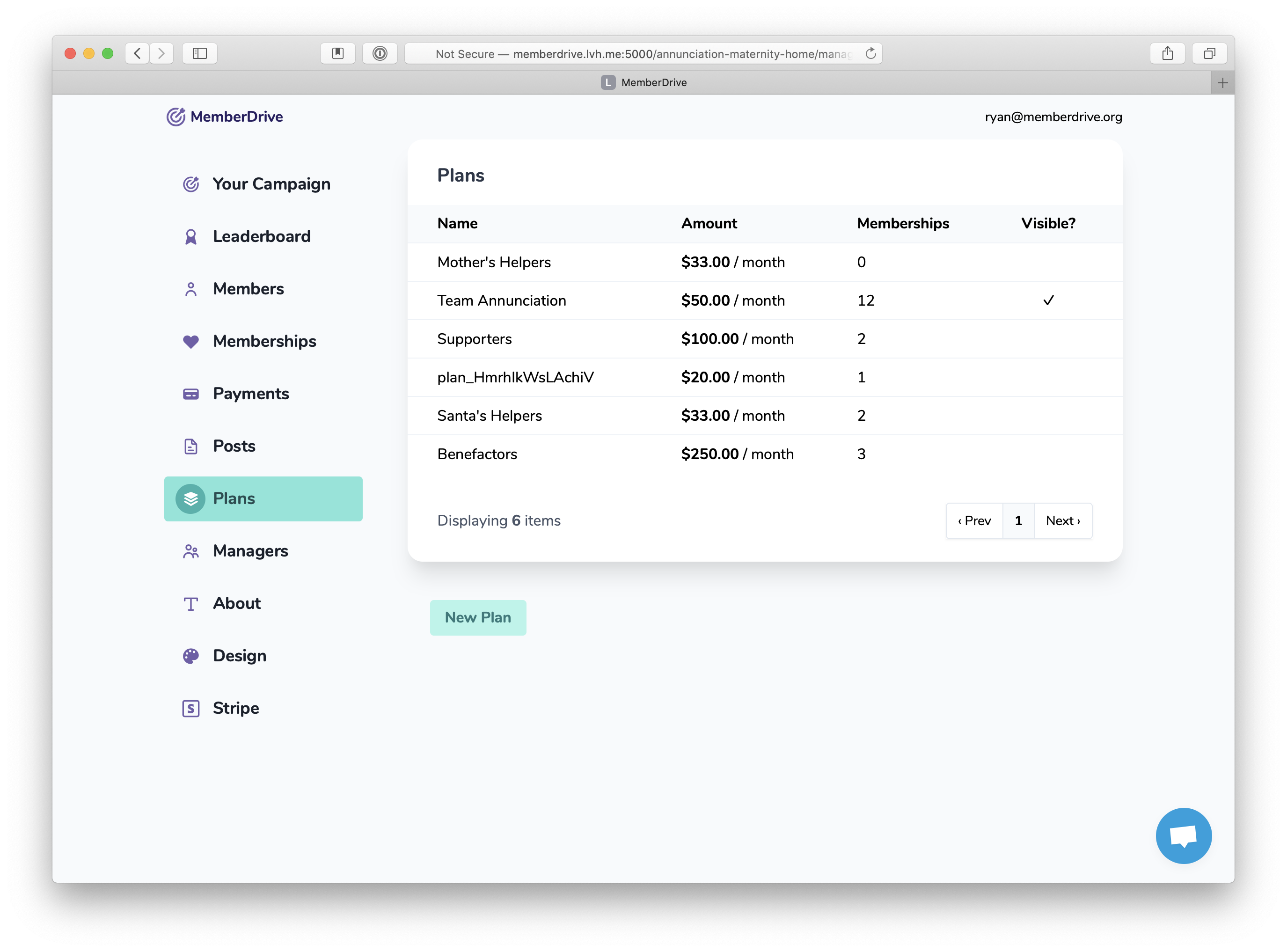 Stripe Integration
MemberDrive integrates with Stripe, which makes taking payments a breeze. If you have an existing Stripe account we can connect to it, or you can set up a new one - it just takes a few minutes.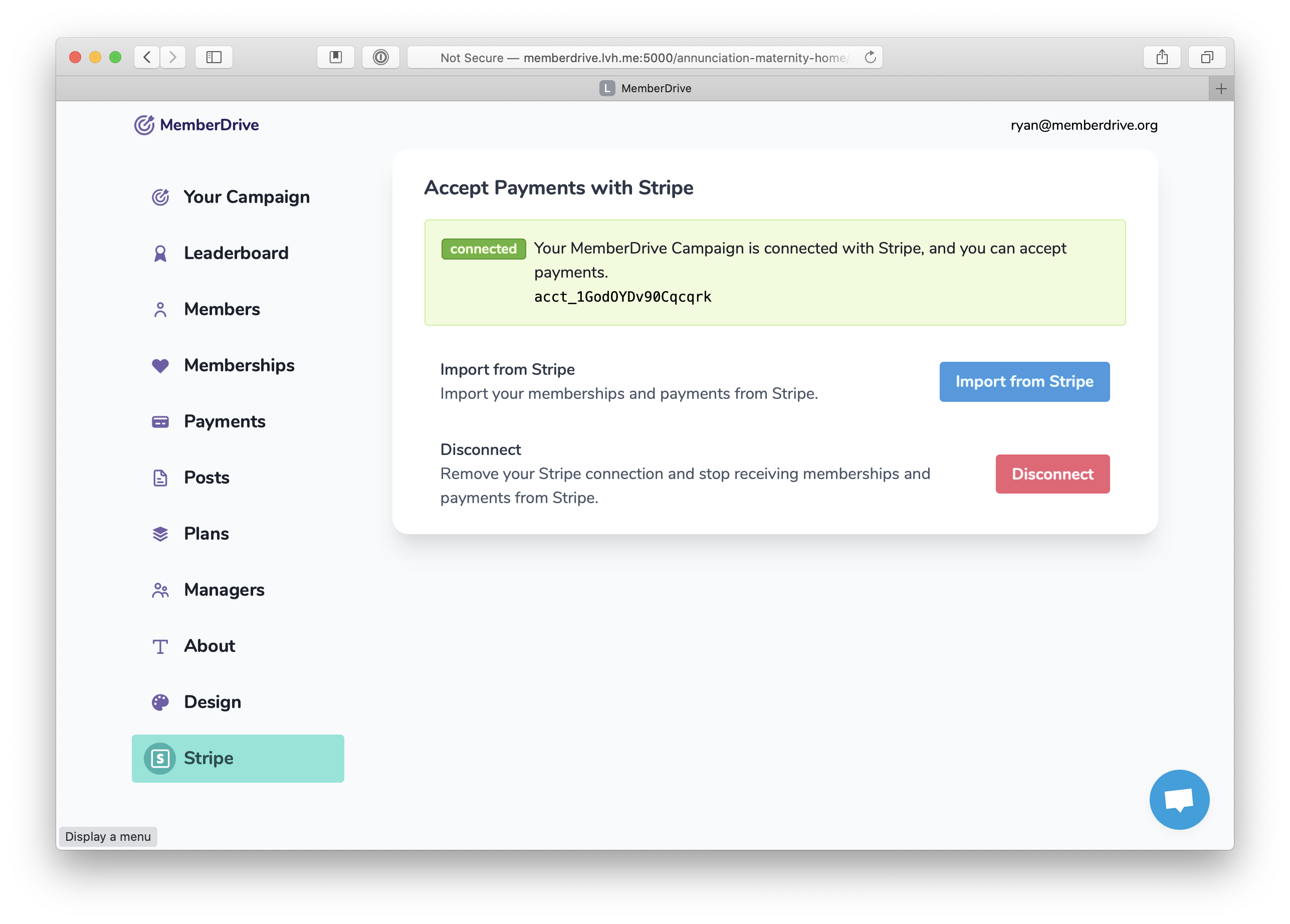 Get Started In Minutes
Set up your first campaign, connect your Stripe account, and start fundraising in just a few minutes.
No up-front cost, no commitment, and no monthly fee.
pages auto' = render /mailchimp'